---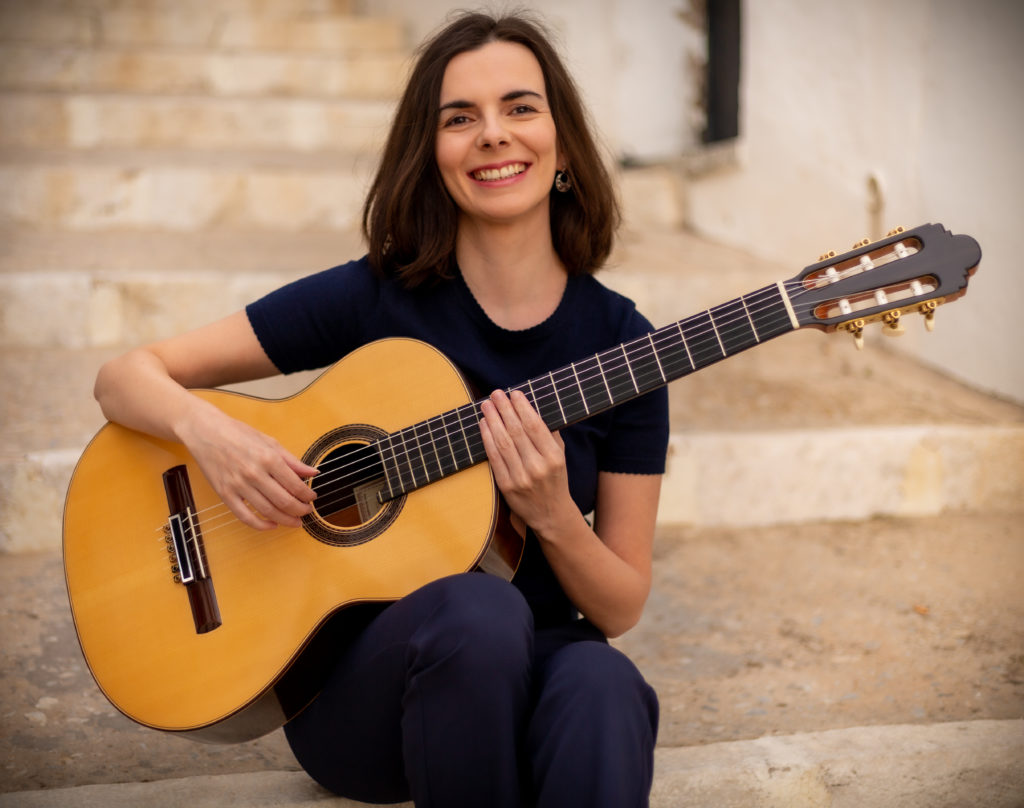 Slovenian classical guitarist Sanja Plohl has captured audiences with soulful interpretations and "an excellent technique, temperament, refinement and exceptional music maturity" (newspaper Večer, 2009). Praised by the critics for her outstanding musical expression, Sanja's list of more than 30 international awards includes prizes at:
XI Ivor Mairants Award, London (UK) – First prize
VII International Competition of Córdoba Guitar festival (Spain) – First prize
II International Guitar Competition Sevilla (Spain) – First prize
III International Guitar Competition Guitarmania, Lisbon (Portugal) – First prize
III International Guitar Competition Iserlohn (Germany)
IV Guitar Art Festival, Belgrade (Serbia)
VI II International Guitar Competition Miguel Llobet, Barcelona (Spain)
VI European guitar competition Enrico Mercatali, Gorizia (Italia)
International Competition of Zwolle Guitar festival (The Netherlands)
VII International Guitar Competition Gevelsberg (Germany)
Concurso Internacional de Guitarra Ivan Padovec (Croatia)
X International Guitar Competition Luys Milán (Spain)
29º National Competition of Young Slovene Musicians (Slovenia) – First prize
(see full list of prizes below)
Sanja has performed as a soloist at numerous venues and music festivals including London Classical Guitar Festival, Córdoba Guitar Festival, Slovenian Philharmonic Hall (Ljubljana), Croatian Music Institute (Zagreb), National Theatre (Maribor), Festival Ljubljana, Spanish Guitar Society (Madrid), Cervantes Institute (Athens), Guitar Days (Istanbul), Seville Guitar Festival, Zwolle Guitar Festival, Festival Guitarmania (Lisbon), Andrés Segovia Festival (Madrid and Linares), Festival Lent (Maribor), Mompou hall (Barcelona), Festival Imago Sloveniae, Dorset Guitar Society, Bonner Meisterkonzerte, Pescara Summer Festival, Girona Guitar Festival, among others.
Her extensive repertoire covers music from the Renaissance to the present day with a special interest in Latin American and Spanish repertoire. Apart from solo recitals and numerous chamber music collaborations she has also performed as a soloist with Spanish, German and Dutch orquestras. Her playing has been featured in various TV, radio and studio recordings and her first CD "Danseuse dans Grenade" was released by Iberia Classical. As a composer she has published several works with Bermann Editions (Dennmark) and has had her music performed by different artists around Europe. She also collaborates with other composers and has premiered more than twenty of their new works.
Sanja has shared her knowledge and experience in numerous masterclasses and lectures (see Teaching page). She currently lectures at Saint Louis University- Madrid campus and collaborates with Classical Guitar Corner Academy (New York/ online).
Sanja earned her Bachelor's degree at The Rostock University of Music and Theatre (Thomas Offermann), Master's degree at the Royal Conservatoire in The Hague (Zoran Dukić) and completed a Postgraduate programme at University Mozarteum in Salzburg (Eliot Fisk, Ricardo Gallen). In addition, she also studied with Àlex Garrobé and Fernando Rodriguéz in Barcelona, with Oscar Ghiglia in Siena and took masterclasses with other prominent guitarists (R. Dyens, A. Pierri, C. Marchione, J. Clerch, M. Socias, D. Starobin, H. Kappel, I. Romer etc). Her studies were supported by the scholarships of the Slovenian Ministry for Culture, Zois fund, Dutch Government (Huygens Scholarship Programme), Soroptimist International, Yehudi Menuhin's Foundation "Live music now", "Accademia Chigiana, "Música en Compostela" and "Alhambra Reserva 1925".
She currently resides between Madrid and Slovenia.
---
REVIEWS
"(…) excellent technique, temperament, refinement and exceptional music maturity, which we rarely find among the guitarists."
Večer, Sept/12/2009

"The Great Hall of Slovenian Philharmonic Hall was filled up with the beautiful and profoundly abundant guitar sound which enabled the listeners to hear every interpretive detail of technicaly perfect and expressively colourful playing of Sanja Plohl…"
Radio Slovenia, Feb 16/2010

"This debut album, from a guitarist well on her way to what promises to be a successful career, perfectly reflects the artist's skill at interpreting an extensive repertoire ranging from the sixteenth-century vihuela to the work of contemporary composer Angelo Gilardino. Her understanding of the music is seamless, her technical virtuosity overcomes difficulties with astonishing ease and her young and airy sound – closer to light than to shadow – are musical treasures clearly identified on this appreciated first album."
Javier Suárez-Pajares, Diverdi

"We can best appreciate Sanja Plohl's skills in Manuel María Ponce's Variations and Fugue on "Folia de España". A truly deep interpretation that shows an immense understanding of the work. Listeners will be compelled by Sanja's resources; her interpretation is of great rhythmical and sonorous intensity, complemented by her natural expression and technical precision; for this and much more the album is a real gem."
Alejandro Cano, 90 Disonancias, Oct 16/2013

"Sanja Plohl brought to her performance a spontaneous identification with every phrase and sonority, which compelled the listener s attention and opened up imaginative world beyond the text. Her Walton sparkled in the outer movements and sang in the slow one, while her sense of poetic involvement with the Bogdanovic made light of its length and intricacies. There was a feeling of genuine improvisation here of which, the jury was sure, Ivor Mairants would have approved and deservedly earned Sanja Plohl the first prize." Classical Guitar Magazine, 03/2009
(Review on Ivor Mairants guitar competition)

"(…) a truly memorable concert… I have been fortunate enough to attend quite a few classical guitar recitals and in my book this ranks as one of the most exciting and inspiring I have been to yet."
Sarah Fry, Dorset Guitar Society Newsletter 03/2010

"There is a beautiful understanding of voices within the piece (Diabelli Sonata), with all its subtle changes in dynamics and tempo. She allows the music to breath in a manner that would please the composer. There are many performers who have the technical ability, but in my opinion, there are few that have raised the performance of the classical guitar to an art form. Sanja has and is a pleasure to listen to for her musicality and intelligence that she approaches the music."
Laura Markee, Westland, US

"Her natural musicality and technical virtuosity is complemented with very delicate sound control. Her musical expression is outstanding and her sense of musical structure, motives and phrasing is both deep and resonant throughout her performances."
Zoran Dukić

"Sanja Plohl is an excellent young guitarist. I worked with her in the performance of contemporary compositions and found her to have a superb technique, and a wonderful musical disposition."
David Starobin, New York City, NY

"(…) with her performance the 2nd year student at Academy for Music in Ljubljana, who has received the highest prizes at national and international competitions, has proved herself as one of the most promising young Slovene musicians."
Večer, march 18/2003
---
PRIZES
First prize
Seville International Guitar Competition (Spain)
Ivor Mairants Award (London, UK)
International Competition of Córdoba Guitar Festival (Spain)
International Guitar Competition Guitarmania (Lisbon, Portugal)
International Guitar Competition Comarca el Condado (Spain)
International Guitar Competition Ciudad de Llerena (Spain)
Music interpretation competition Arjau (Barcelona, Spain)
29th TEMSIG- Slovene national music competition (Slovenia)

Audience prize
International Competition "Luys Milan" (Ontinyent, Spain)
International Miguel Llobet Competition (Barcelona, Spain)

Special prize
Diploma di Merito: "Accademia Chigiana" (Siena, Italy)
Finalist at 27th International Competition Andrés Segovia (La Herradura, Spain)
Best participant prize at Rust Guitar Festival (Austria)
Best performance of Catalan music at Miguel Llobet Competition (Barcelona, Spain)
International Summer School Strings only (Zadar, Croatia)
Radio Slovenia prize at Slovene national music competition (Slovenia)
Special prize for best participants at "Glasbeni julij na obali" summer academy (Koper, Slovenia)

Second prize
Guitar Art Festival (Belgrade, Serbia)
International competition of Zwolle Guitar Festival (The Netherlands)
International Guitar Competition Ciutat d'Elx (Spain)
International Guitar Competition Ciudad de Vélez– Málaga (Spain)
Spanish National Guitar Competition Cincilia (Albacete, Spain)
International Guitar Competition "Josep Ferrer"(Gerona, Spain)
International Guitar Competition Kitarika (Koper, Slovenia)
32nd TEMSIG- Slovene national music competition (Slovenia)
31st TEMSIG- Slovene national music competition (Slovenia)
Third prize
International Guitar Competition Gevelsberg (Germany)
International Competition "Luys Milan" (Ontinyent, Spain)
International Miguel Llobet Competition (Barcelona, Spain)
International Guitar Competition Simone Salmaso (Viareggio, Italy)
International Guitar Competition Ivan Padovec (Opatija, Croatia)
35th TEMSIG- Slovene national music competition (Slovenia)

Fourth prize
European Guitar Competition Enrico Mercatali (Gorizia, Italy)

Fifth prize
Iserlohn International Guitar Competition (Germany)